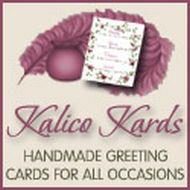 WELCOME TO THE HOME OF KALICO KARDS
Kalico Kards are handmade cards (with envelopes) for all occasions with hand cut fabric images and words that have warmed many hearts and tickled many spirits for more than 20 years!
I sold my first Kalico Kard at the local YMCA Christmas craft show in 1991 with a total of 24 designs using a quilt with pockets for my display, expanded my display to wooden racks 4 more times to accommodate more than 150 designs over the next 15 years, then opened my first website in 2006 with more than 200 designs.
My present website is the third one and displays approximately 300 different card designs - some have been with me from the beginning but I changed the fabric, greetings, and words of some in response to customers' requests.
I would love to be your personal kardlady - there are many card shops online and near you locally but I promise you won't be disappointed in the quality of products, service and having the cards maker at your fingertips. You'll always get more than you asked for at Kalico Kards - my aim is to please my customers!
free personalizing of the receivers name(s)

free shipping in the USA within 24 hours to arrive in 2-3 days

personalized service and satisfaction guaranteed or your money back

your own words (up to 15) hand printed for you on most cards
NEW DIE CUT CARDS: